Seth Godin is one of my very favorite business authors. His first book, Permission Marketing (1999), helped me understand the importance of crafting messages that are anticipated, personal, and relevant. It shaped the way I think about the Internet as a communications medium.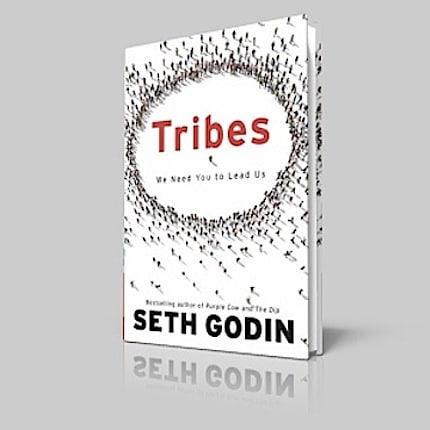 Since that time, Seth has written many bestselling books on marketing, including The Purple Cow, Word of Mouth Marketing, and, his newest, Tribes. Each time he has challenged the status quo and turned conventional thinking on its head.
But Tribes represents a subtle shift in focus. It is a book about a profound change that is taking place in marketing. While leadership and marketing are both about influence, leadership is influence without self-interest. This is what makes leadership the most powerful kind of marketing possible.
Seth's basic premise is that a tribe is any group of people, large or small, that is connected to one another, a leader, and an idea. The Internet has eliminated the barriers of geography, cost, and time. All these tribes need is leadership.
That's where you come in.
The Web can provide the tools, but you have to provide the passion. Anyone who wants to make a difference—in their community, in their business, or in the world—has the tools at their fingertips.
This book explains the nature of tribes and how to build one. It also explains how you can use tools like Twitter, Facebook, and blogs to extend your influence and connect with the tribe in new and powerful ways.
Tribes is a short book—only 147 pages. But its short size belies its true importance. As I read it, I was literally underlining every other sentence. I went through two hi-lighters before I finished!
This is one of the most important books I have read this year. I highly recommend it.
Question: How do you see leadership changing in this new era?