Over the past few months, I have been doing a lot of thinking about reading—particularly about reading books. This was brought to my attention again last week when I interviewed Dr. Ben Carson for a series of video broadcasts on the topic of leadership, which I did for the Chick-fil-A Leadercast.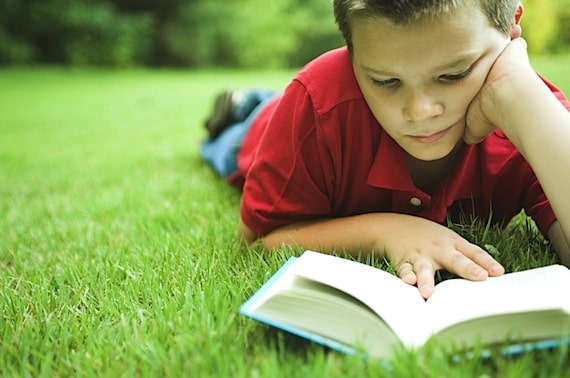 Photo courtesy of ©iStockphoto.com/NickS
Dr. Carson was raised in extreme poverty by a single mother. As a grade school student, he experienced difficulty academically, eventually falling to the bottom of his class. His mother, who was working two to three jobs, became alarmed. She did not want her sons to drop out of school, believing that education was the only way they would escape a life of poverty.
She began to notice that the wealthy families she worked for watched little television. Instead, they spent their time reading books. As a result, she sold her television and insisted her sons read two library books a week, writing a book report on each one. She would then review the reports, make marks on them, and assign two more books. Several years later, to his surprise, Dr. Carson discovered that his mother couldn't even read.
In the interview, Dr. Carson said to me, "Everything changed when I began to read. I started to see myself as a smart person who could learn anything. The whole world opened up to me."
Indeed it did.
He graduated from Yale with a degree in psychology and then went on to medical school at the University of Michigan. He completed an internship in general surgery and a residency in neurological surgery at Johns Hopkins.
Today, Dr. Carson is Professor of Neurosurgery, Oncology, Plastic Surgery, and Pediatrics
at Johns Hopkins. He has authored over 100 neurosurgical publications, along with three best-selling books, and has been awarded 38 honorary doctorate degrees and dozens of national merit citations, including the Presidential Medal of Freedom.
These would be impressive accomplishments for anyone, but especially so because of his background. And this all happened, according to Dr. Carson, because his mother insisted that he read books.
Despite what many pundits are saying today, reading is not dead, nor are books. Certainly, big changes are underway, especially in the way books are delivered to readers. But reading itself is alive if not altogether well. It is not going away. At least, not any time soon.
I don't say this as a hopeless Luddite, trying to preserve my own economic interest. At Thomas Nelson, we have embraced digital books. We have led our industry segment in terms of digital delivery. In fact, I personally now consume most of my books in digital form.
But this doesn't change my commitment to or belief in the value of books. However, in using this term, "books," I mean something very specific. I am not referring exclusively to ink printed on paper and bound between two covers—that's simply a delivery mechanism.
Instead, I am referring to long-form, text-based content, regardless of how it is delivered to its audience. A book might be a printed book, a digital book, or even an audio book. Regardless, it is still a book. And, I still believe in the power of books to transform individuals, communities, and, indeed, entire civilizations.
As much as I may enjoy magazine articles, blogs, television broadcasts, and movies, I can't make the same claim about them. By and large, I don't believe they have the same kind of transformative impact. Granted, there might be an exception here and there, but the kind of transformation I am talking about requires a more sustained argument—or story. This is precisely what books are designed to deliver.
And, no, they don't need to be enhanced with multimedia bells and whistles to make them compelling. While this may be useful in certain types of reference works, I don't think good writing needs it. Great writing definitely doesn't require it.
This is precisely where I believe book publishers sell short their primary audience. Serious readers—the kind who read several books a month—pride themselves in their ability to follow extended arguments and enroll their imagination in the reading experience.
Most serious readers I know see these other elements as distractions or fluff, primarily designed to seduce non-readers into doing something they would otherwise not do—read a book. While I am all for expanding the market and bringing more non-readers into the fold, I don't believe we do that by adding multimedia elements to most books.
In fact, I think by doing so, we might actually be sowing the seeds of our own demise. And here I am not speaking just of book publishers; I believe something more important is at stake.
If we can't engage people in extended conversations that require serious reflection, debate, or story-telling, then our civilization will simply revolve around entertainment. Worse, as Neil Postman noted more than two decades ago, amusement will become the ultimate value against which everything else is measured (see Amusing Ourselves to Death).
I believe the best way to combat this trend is to write and publish the very best books we can. I am not willing to throw in the towel and cave to the latest fad. I do believe our delivery methods can and will change. But I still believe there is great value in long-form, text-based content.
Postscript: By the way, Joel J. Miller, one of our VPs at Thomas Nelson made a similar argument on his blog a few days ago.
Question: Do you agree or disagree?