Please note: The way I organize Evernote today is completely different than what I wrote here. You can find my updated methodology
here
.
I have been using Evernote for months. However, I have not really taken time to explore the depth of this incredible program until just recently. I have mainly just used it for a place to store meeting notes and an occasional web clipping.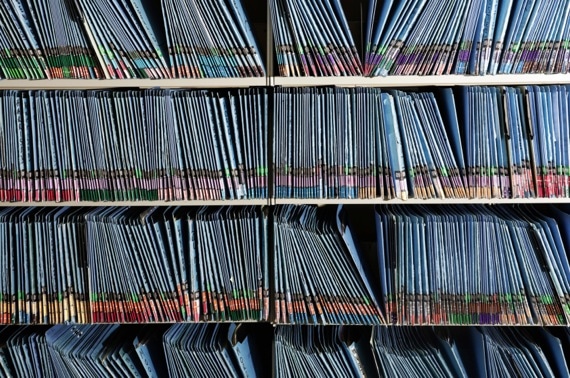 Photo courtesy of ©iStockphoto.com/STEVECOLEccs
However, thanks to Brett Kelly's very helpful e-book, Evernote Essentials, the Evernote user forum, and a little experimentation, I have begun to see the incredible power of this digital repository. So much so, then I am committed to going paperless in my new office setup.
It all begins by establishing a solid organizational structure. Evernote doesn't require one, but, based on my personal experience you won't realize the full power of this tool without one. You need to give some thought to how you want to structure your notebooks, "stacks," and tags.
First, let's define some terms:
Notebooks: These are collections of individual notes. Theoretically, you could just have one notebook and dump everything into it. But most people will want to establish different notebooks for different "areas of focus."
Stacks: These are collections of notebooks. For example, you could have a stack called "Work" that has separate notebooks for each client, project, or area of responsibility.
Tags: These are attributes that you can apply to any individual note. You can then view all notes with a specific tag, regardless of which notebook it resides in. This provides for the ultimate in filing flexibility, though it can be confusing at times. (I still get confused about whether something should be a notebook or a tag.)
I tend to think of stacks and notebooks as a vertical (or hierarchical) way of organizing, and tags as a horizontal (or lateral) way of organizing. To use the metaphor of a filing cabinet, think of stacks as individual drawers, notebooks as the files within the drawers, and tags as a way of identifying common attributes regardless of what folder or drawer the note is in.
For example, you might "tag" a piece of paper within a folder by printing invoices on yellow paper. With Evernote, it's much more simple, because each note can have multiple tags. So, for example, I have some notes in my Receipts notebook that are tagged "tax deductible" and others that are tagged "reimbursable."
Perhaps my current structure—which is still a work in process—will serve as an example. Here are my stacks and notebooks. Bear with me. The list is a little long.

I created this list by first asking myself, "What are my primary areas of focus?" The highest level stacks or notebooks are that list. Note that "!Inbox" is my default notebook. This is where I put random items until I know exactly where I should file them. (The exclamation point ensures that this notebook is first in the sorted list.)
Note that I had to divide Work into several stacks, all with the prefix "Work." This is simply because Evernote doesn't currently allow the nesting of stacks. (Note to Evernote developers: please consider this as a feature request.)
Here are my current tags: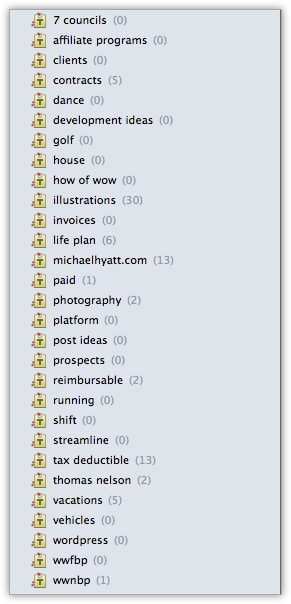 It is tempting to tag every note with a several tags. However, I broke myself of that habit once I realized that Evernote indexes every word in every note. So if you have a great quote on "purpose," for example, you don't need to tag the note with "purpose," so long as the word appears in the note. This only adds more clutter. The key is to remember that less is more.
Once you get your basic structure, the fun really begins. (Okay, maybe this is a stretch.) I hope to post soon on how I get stuff into Evernote. This is where the versatility of the tool really shines.
I have written several posts about Evernote. Here is a handy reference:
Questions: How do you organize Evernote? Where do you see that I could improve my organization? You can leave a comment by
clicking here
.